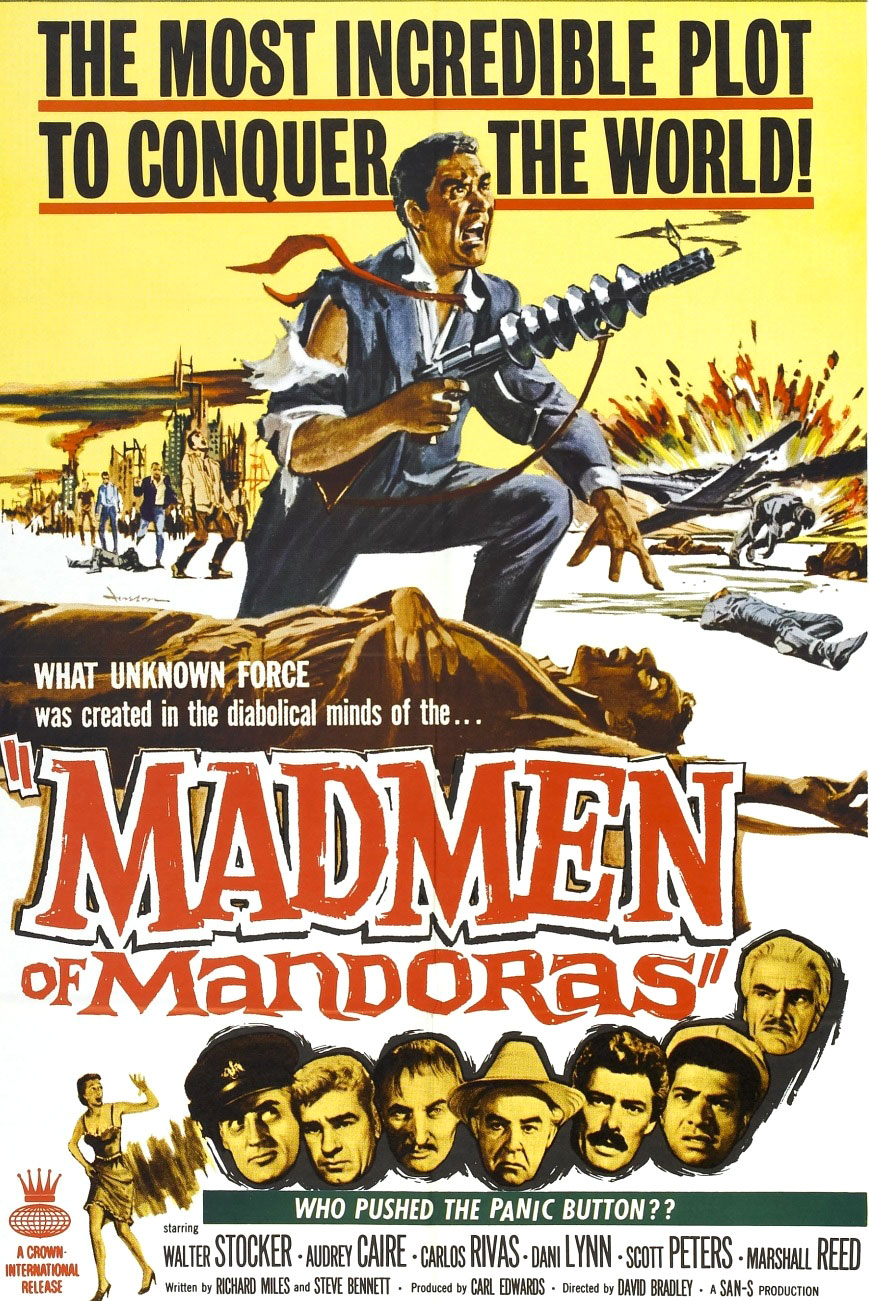 They Saved Hitler's Brain, the 1968 sci-fi dog from director David Bradley, has one of the more unique stories in shitty movie history. It was originally released in 1963 as Madmen of Mandoras. A few years later, the owners of the film wanted to sell it for television distribution, but the original running time of 74 minutes was too short. Their solution? Hire some UCLA film students to shoot a new first act, featuring none of the cast from the original, with only a tangential connection to the main plot. These new scenes are an anachronism, looking completely out of place, because they are. The two main characters in these scenes, one of which isn't even listed in the cast, are both killed off before the movie switches to its original content. These new scenes are a disaster in every way, from plot, dialogue, to acting. Just this part of the film is enough to make this among the worst films I've ever seen, and there's still a whole hour of movie to get through.
Back in the part of the film that isn't some pre-cancerous growth, there's a whole lot of intrigue surrounding the fictional Caribbean nation of Mandoras. It turns out that, near the end of World War Two, Adolf Hitler underwent an extreme operation as the Soviets were closing in on his bunker. Rather than killing himself, as the history books lead us to believe, Nazi scientists removed Hitler's head from his body and attached it to life-preserving medical doodads. As the Allies were celebrating the end of the war in Europe, Hitler's head, still conscious, mind you, was smuggled to the tiny island. Now, twenty years after the end of the war, Hitler's head leads a new Nazi organization that is poised to release a poison gas on a worldwide scale. Somehow, Hitler's head will then conquer the world.
The plot centers around a cop, a scientist, and some other throwaway cast members as they try and prevent this from happening. It's meant to be a story of thrills and intrigue. Instead, it's just total crap. Any viewer who can pay close enough attention to the plot to follow it deserves an award.
Most of this flick is total garbage. It will strain a viewer's tolerances. But, there are some wonderful shitty moments, and they all involve Hitler, played by Bill Freed.
Freed might be the only member of the cast who thought this movie was a comedy. His Hitler is exaggerated, and Freed uses an arsenal of absurd facial expressions in his portrayal. There's a chance he was really just itchy from the fake moustache.
When Freed plays Hitler as just a head, it's hilarious. He doesn't have much to say in this state, which is something, considering how verbose Hitler was in real life. It's the looks he gives his Nazi henchman that I will remember for the rest of my days. That, and the moment when his head melts, Raiders of the Lost Ark-style, at the end. That's not a spoiler. Hitler not surviving this film is the only way it could end. I applaud Bradley and company for making the character's suffering complete.
They Saved Hitler's Brain is no more than a curiosity. It's hard to watch and hard to follow. Only the worst of the worst films showcase a lower level of filmmaking competency. It falls way down the Watchability Index, landing with a thud in the bottom ten, displacing The Phantom from 10,000 Leagues at #264.