Be warned, this is a spoiler-heavy trailer.
Gene Hackman is still alive! As of this writing he is, anyway. Throughout his career, beginning with a bit role in something called Mad Dog Cole in 1961, to his final appearance in 2004's Welcome to Mooseport, it was odd for a year to go by without multiple films featuring Hackman. But, after Mooseport, Hackman decided to retire. Too bad. Thank goodness, then, that Hackman plied his trade on the silver screen rather than on stage. His work is still available for all to see, including this little neo-noir flick that has slipped into some obscurity.
Night Moves, from screenwriter Alan Sharp and director Arthur Penn, was released in 1975. It follows Harry Moseby (Hackman), a private investigator in Los Angeles. Harry has almost all the accouterments of a grizzled LA private dick. His business is constantly failing, and operates out of a tiny office in the wasteland of downtown. He follows cheating wives and husbands, exposing their infidelity for a little rent money. Every case Harry takes on generates in him further disdain for the human race. His life is a slow burn of misanthropy, leading Harry to become a damaged person in his own right. The big case that falls into his lap is about a missing dame, and of course it is the case that forces Harry to examine his own life as much as his missing client's. Take out all the swear words and the nudity, and this screenplay could have been used in the 1940s for something starring Humphrey Bogart or Sterling Hayden.
Harry is hired by a former Hollywood starlet to find her runaway daughter, Delly (Melanie Griffith, in her first credited role). Harry has a task ahead of him. Delly is what Harry mockingly calls 'liberated.' That is, she's young and nubile, and makes it a point to sleep with every man she meets. That means she leaves a trail that is easy to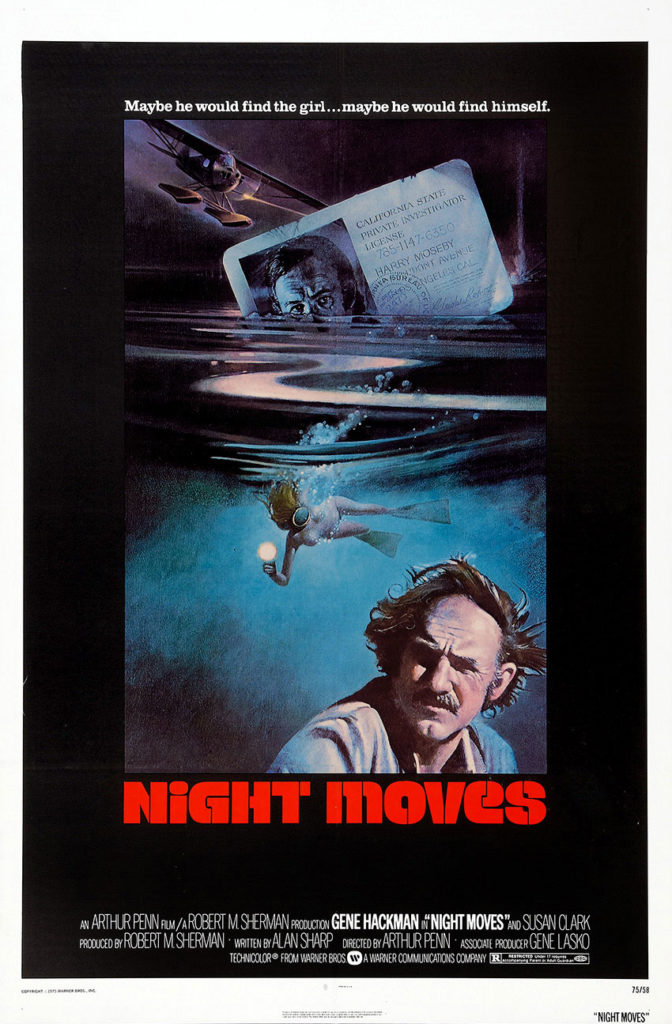 follow, but lined with wrecked egos. His investigations lead him to Hollywood, which is where all LA-based noir flicks end up. There he finds Delly got tangled up with a stunt plane mechanic named Quentin (James Woods, also in an early role). His investigations then take him to the Florida Keys, that other well-worn locale for gritty detective tales. It's a bit like stepping into a different movie, only the plot carries forwards.
As for that plot, it's not hard to follow, but a lot of information is kept from the viewer. There are clues here and there to goings on more complicated than just a runaway teenager, but there isn't any helpful exposition for the audience. There are unexplained twists and turns, and a smuggling plot that is never resolved. In fact, nothing gets resolved in this film. That would be just fine, but since the motivations of the key players remain obscured, that big question — that 'why?' — is still hanging over this film as the credits role.
This is among the best performances of all of Hackman's films I've seen. He appeared very much at home in Moseby's skin. He plays Harry as world-weary and cynical, which is what we audiences expect from film detectives. There's nothing unique about the character of Harry at all, but for having to endure this trope, and many others, we are rewarded with a natural and easy performance. If only that could have been the case with the rest of the cast.
Harry follows the clues and makes his case, chatting up supporting characters along the way. Unfortunately, most of these costars weren't as good, and they didn't get the memo about acting natural. I'm sure that Jennifer Warren as Paula, who is in open competition with Harry for being the most jaded person in the movie, tried her best, but her readings were bad enough to yank me right out of the film. It didn't help that some of her lines were absolute howlers — loaded with cliché and merely resembling noir rather than being of it.
Night Moves has found some underground cachet in the decades since it's release (actual film critics who get paid to do this love it), but it's a very flawed film. It's convoluted with little resolution or big picture message. It's loaded with well-worn tropes with which audiences will be very familiar. There are times when the dialogue has all the sophistication of a Max Fischer play. It's a movie that comes very near to succeeding. Penn tried very hard to make a worthy successor to great film noir of the past. Night Moves falls just short of that goal.