Finally, a film for the energy drink generation.
What a putrid mess. In truth, the only reason I watched xXx at all is because I noticed that there were no films under 'X' in the Empty Balcony database. Every other letter in the English alphabet is represented, but in the many years I've been pounding out these reviews I've never once reviewed a film whose title began with the letter X. Now that I've seen xXx, I never have to watch it again.
xXx tells the story of Xander Cage (Vin Diesel). Cage is basically Dom Toretto from the Fast and Furious franchise without all the sidekicks. That's not all that surprising. Not only does this film star Diesel, it was directed by Rob Cohen, who also directed the first Fast and Furious film.
Cage is an adrenaline junkie. He's the type of person who jumps out of a plane on Monday and free climbs Half Dome on Tuesday. But he's also a political activist of sorts. It's not necessary, for either myself or the film, to explain exactly what issues he's concerned with, only that his shenanigans land Cage in jail. There, he is recruited by the mysterious Agent Gibbons of the NSA, played by Samuel L. Jackson and a wig.
Sam Jackson is no stranger to wigs in his roles, but this one is especially precious. It's up there with the awful 'dos he sported in Unbreakable or Jackie Brown. His wig comes very close to crossing over into Eddie Munster territory. It's a bad wig.
Anyway, after Gibbons throws various dangerous and violent tests Cage's way, which he passes, it's time to set Cage loose on his real target. That target is Yorgi (Marton Csokas), the leader of a group of Russian mercenaries who has obtained a biochemical weapon. Cage's mission is to infiltrate Yorgi's group as an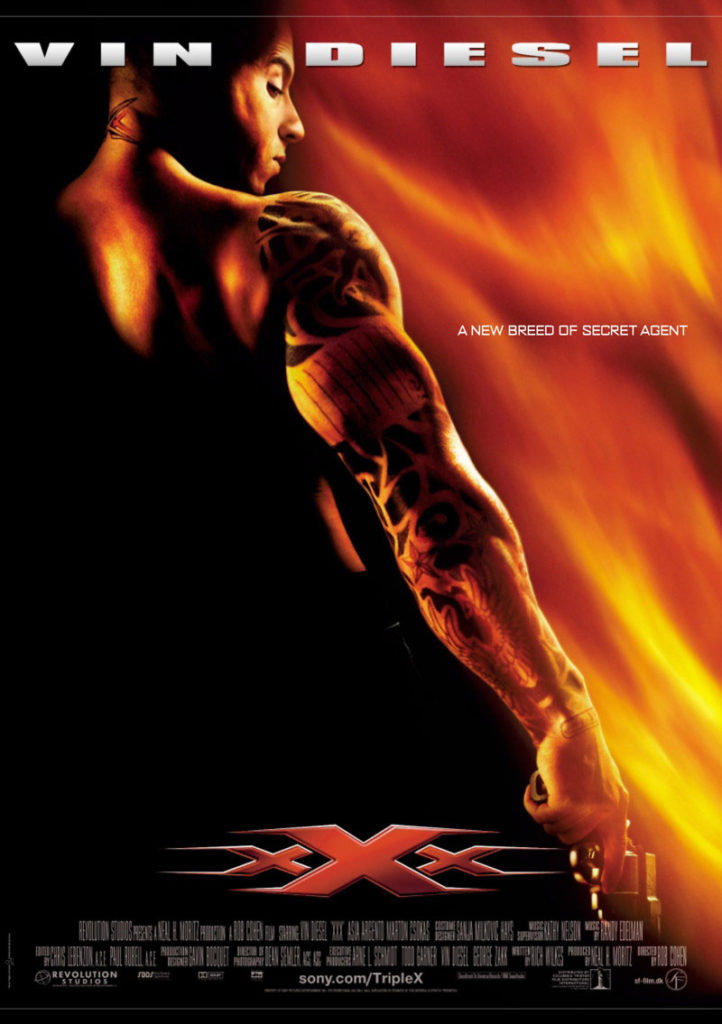 undercover operative, and kick a whole lot of ass. And drive fast cars. And go to fancy European nightclubs. And sleep with tight-bodied women. The plot for this one is lifted straight from the James Bond playbook, only the suave and seductive Bond has been swapped out for a Jersey Shore d-bag. Seriously, the guy has his personal logo tattooed on the back of his neck. I'm sure we all wish we had our own logos, but I think America is classy enough already.
This is a movie that demands a lot of its audience. It's supposed to just be a stupid action flick, but it's so stupid it actually places a strain on a viewer. It takes a lot of work to reconcile what is on screen with the real world. Nothing in the film is thought through to any sort of extent. That's how the film ended up with the NSA being the secret American intelligence agency of choice. Picking the NSA may have sounded cool to Cohen and screenwriter Rich Wilkes, but it doesn't take a whole lot of Googling to learn that the NSA's primary concern is signals intelligence, not covert ops. It's a nitpick, sure, and largely meaningless to the picture as a whole, but pile up all the little bits of laziness in this flick that were in service of its action, and they become the primary reason this film sucks.
That action is spectacular. The stunt and effects teams were creative and over the top, to the point that it got a little wearying towards the end, like a great concert that goes on a little too long. Everything in the film is done to make sure the explosions and flying motorcycles look great, but the lack of concern for the rest of the movie is its doom. Both Alien: Resurrection and xXx are full of despicable characters that I wouldn't want to spend time with, but if I had to choose, I'd go with xXx. Not only is it a slightly better movie, but I'm pretty sure the craft service table had Jäger bombs.