Pop quiz, hotshot. You have access to an animatronic dinosaur for three weeks, and a million bucks burning a hole in your pocket. What do you do?!
If you're Etka Sarlui, you call up b-movie auteur Stewart Raffill and ask him if he would like to make a movie. And if you are Stewart Raffill, you then say 'yes,' because one should never turn down work. A week later, Raffill, along with Gary Brockette, have a screenplay, and two weeks after that, Tammy and the T-Rex is in the can, the dinosaur is off to a theme park in Texas, amazingly undamaged, and the world has its next insane shitty movie.
From 1994, Tammy and the T-Rex stars Denise Richards and Paul Walker, early in their respective careers, as Tammy and Michael — would-be lovers whose stars are crossed by Tammy's ex, Billy (George Pilgrim).
One night, Billy and his gang, learning that Michael is seeing Tammy, chase him down, knock him unconscious, and leave him in a safari park to be mauled by wild animals. Michael is rescued by a game warden, but not before he suffers grievous injury. At the hospital, Michael is kidnapped by Dr. Wachenstein (Terry Kiser), the flick's resident evil scientist, who implants Michael's brain into a robot tyrannosaurus.
After Michael regains consciousness inside the dinosaur, he's understandably pissed, and goes on a rampage, killing everyone who did him wrong, in bloody, gory fashion. At least, it's bloody and gory if a viewer sees the right cut.
After Raffill completed the film, Sarlui cut it to pieces, removing all the gore so that it would be a family-friendly film. The film ended up bombing, but it was going to do that, anyway. The cut with all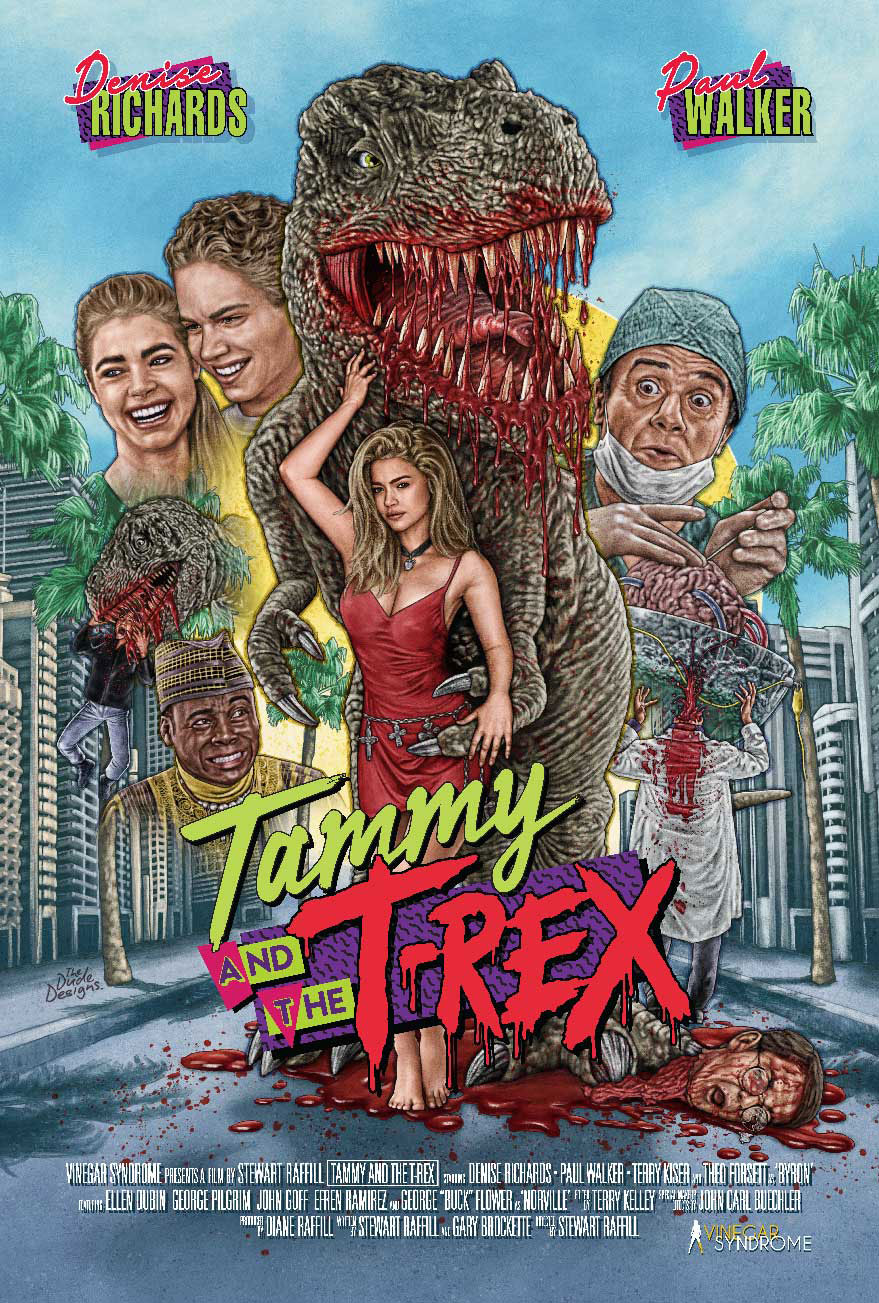 the gore was thought lost, until the fine folks over at Vinegar Syndrome located it, gave it a proper cleanup, and released it on Blu-Ray in 2019. That company is providing a valuable service to the shitty movie fan, and if Missile Test gave out medals, they would get one.
I can't imagine how unbearable this movie would be without the gore. It's a black comedy, but it's not the kind of comedy that has jokes. There's a lot of vintage slapstick, which one has to be in the right mood for, and a whole heap of absurdist situational humor. Picture 1970s John Waters films, watered down a bunch, add buckets of blood, and one gets a sense of this film's tone. It's stupid beyond all belief, but I haven't laughed this much at a shitty movie in months.
Denise Richards is not a great actress. We all know that. Yet here, early in her career, was her perfect role. The dead reads and endless, vapid smile were perfect for the sweet, innocent Tammy. Paul Walker was an ideal counterpart, but most of his role was relegated to voice work after he got stuffed into the dinosaur. It was Denise Richards, of all people, who carried this film. Raffill surrounded her with co-stars who all did well — no easy task considering the slapdash nature of the film — but it's Richards who wins the prize. What prize is that? The prize of having perhaps one's most embarrassing film role rescued from the ash heap and restored for all to see.
For a movie made in less than a month, I don't think audiences could expect anything better. Raffill had a tough challenge, and delivered on time and under budget. I think he made the right decision to go full-on 'fuck it' with his movie, and film the craziest shit he could come up with. You can't make Jurassic Park that fast.
Tammy and the T-Rex is a highly entertaining and watchable movie. It sucks. It's so, so bad. But it revels in it. The man who brought us The Ice Pirates and Mac and Me has made another timeless contribution to the art of shitty cinema. This flick makes it into the top 50 of the Watchability Index, landing at #32. Check it out. A couple gummies might help.
Keep an eye out for notable bit players Sean 'Aaron Buhh!' Whalen, Poppy Montgomery, and Efren Ramirez. First to spot all three gets a cookie.