Young director Michael Reeves only had three directing credits to his name before he overdosed on booze and pills. His final feature, Witchfinder General, aka The Conqueror Worm, is a true classic, gracing many 'best of' lists on the internet. A couple of years before, Reeves cut his teeth on Italian/British production The She Beast, which he also co-wrote with F. Amos Powell, longtime Hollywood TV actor Mel Welles, and b-movie legend Charles B. Griffith, all uncredited. Welles also has a substantial role as a sleazy innkeeper.
The She Beast tells the story of a small town in Transylvania that had been plagued by a demon known as Vardella, or Bardella, depending on the source (Joe 'Flash' Riley in a lot of makeup). She would kidnap locals and feed on them. One day the townsfolk had enough, tracked Vardella to her layer, strapped her to a ducking stool and drowned her in a local lake. The locals had been warned that this was only a temporary solution without a true exorcism, but their blood was up and they weren't listening.
Fast forward to the present day, 1966, and newlyweds Philip and Veronica (Ian Ogilvy and Barbara Steele) are on an extended road trip through Eastern Europe and happen upon the town. One of the locals, Count Von Helsing (John Karlsen), regales the pair with a story of how it was his family that rid the region of Dracula, and how they remain steadfast, on the lookout for new supernatural trouble.
In fact, Von Helsing, who is also a homeless alcoholic, stumbled upon a book in a cave detailing the capture and execution of Vardella, and is worried she may somehow reappear.
Later, as Philip and Veronica leave town, their car veers off the road into the lake where rests Vardella. Philip survives, but Veronica is killed. Her body is taken back to the inn they stayed at the night before, where her corpse transforms into Vardella, who is now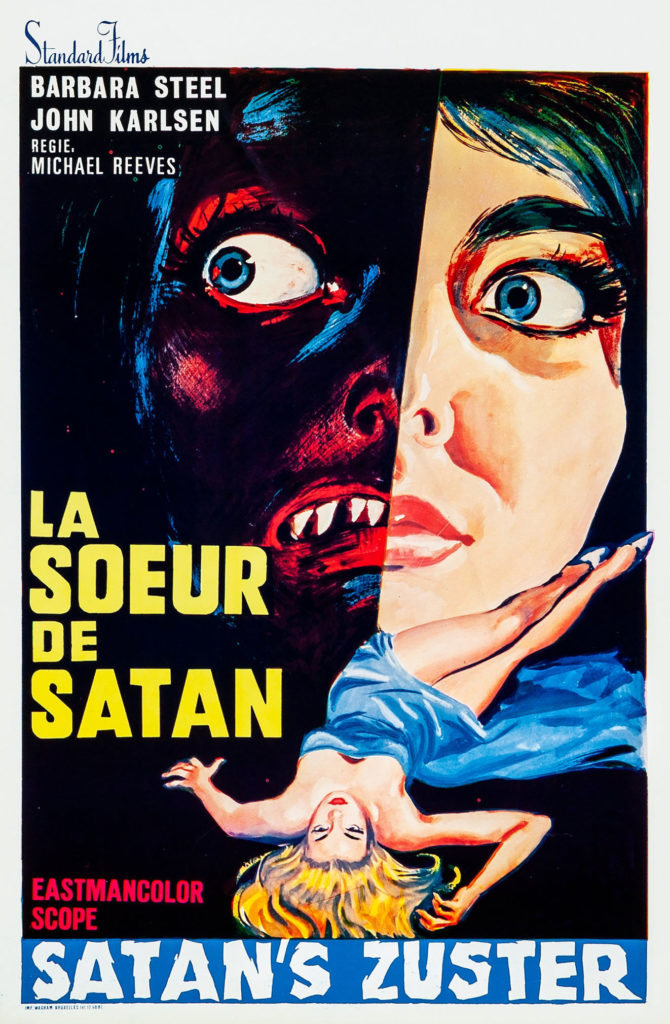 free to wreak havoc on the descendants of the townsfolk who killed her. What follows is Von Helsing and Philip trying to defeat Vardella and restore Veronica to life. This is a somewhat rote horror story, so seasoned horror fans will know how this goes.
The She Beast is an anonymous Italian gothic horror flick, as compared to its more well-known cousins that also happen to feature Barbara Steele. Viewers won't find innovation or high art. The cinematography doesn't stick in one's memory, and the makeup effects are not spectacular. Also, the final act of the movie takes a bizarre turn into slapstick that doesn't fit with the overall tone of the film at all. Yet, I enjoyed watching this movie.
Karlsen, whom viewers might remember as the 'Iron Maiden' guy from Bill & Ted's Excellent Adventure, gives a very good performance as the Count. Early on, he's a man who is flailing for relevancy, but when Philip needs his aid, his character grows alongside his responsibilities. At times Karlsen played Von Helsing a little too clean for his situation, but his was still the outstanding performance of the film.
Ogilvy also did well as the distraught husband, and later reluctant partner to Von Helsing. He was more than just a pretty face.
Unfortunately, that's about all Barbara Steele was in this film, as her role was limited. When she was on screen, playing the happy wife, she conveyed to the audience how lucky Philip was to have her, and how desperate he would be to get her back.
The She Beast isn't the most watchable film. It's slow at times, a couple of the characters are too slimy to spend this much time with, and that final act's shift in tone is a true head scratcher. The film just misses making the top half of the Watchability Index, taking over the #229 spot from Blood Mania. It's worth a look for those curious about Michael Reeves and his lost potential.