There is some sleaze to Blood Mania, the 1970 neo-noir drive-in flick from purveyors of shit Crown International Pictures. Tony Crechales and Toby Sacher were responsible for the screenplay, while Robert Vincent O'Neil sat in the director's chair.
The plot is straight out of an old issue of Crime SuspenStories. A wealthy, aging doctor, Ridgeley Waterman, played by Eric Allison, is on his deathbed. He is being cared for by one of the partners in his practice, Dr. Cooper (Peter Carpenter, who is also credited with this film's story). Cooper is being blackmailed by some smarmy gangster played by Arell Blanton. The blackmailer has concrete evidence that Cooper performed abortions while he was in medical school. This film being from 1970, abortions were a crime, and Cooper's life and career would be ruined if the authorities were to find out. All it will cost Cooper to make this threat go away is fifty thousand dollars, which is much more than Cooper can raise.
Perhaps he could go to his boss for help, but he doesn't. Instead, he gives in to the advances of one of Ridgeley's daughters, Victoria (Maria De Aragon).
Victoria and her father have a poor relationship, with him being mercilessly critical of her life even as she is the only family member at his bedside. Her motivations are not pure, as she is expecting a sizable inheritance from her father upon his death. Still, she doesn't return his barbs or abuse him in his invalid state. His care appears to be thorough. All that is missing is some compassion, and Ridgeley had to have known he didn't deserve much of that.
Nevertheless, Ridgeley knows more about his daughter than O'Neil and company were capable of portraying on screen. Victoria is a nutjob. She works on Cooper, gets him into bed, and hatches a murder plot. And that's the last of the plot I will spoil. Because, despite this being something of a forgettable exploitation flick, the comprehensive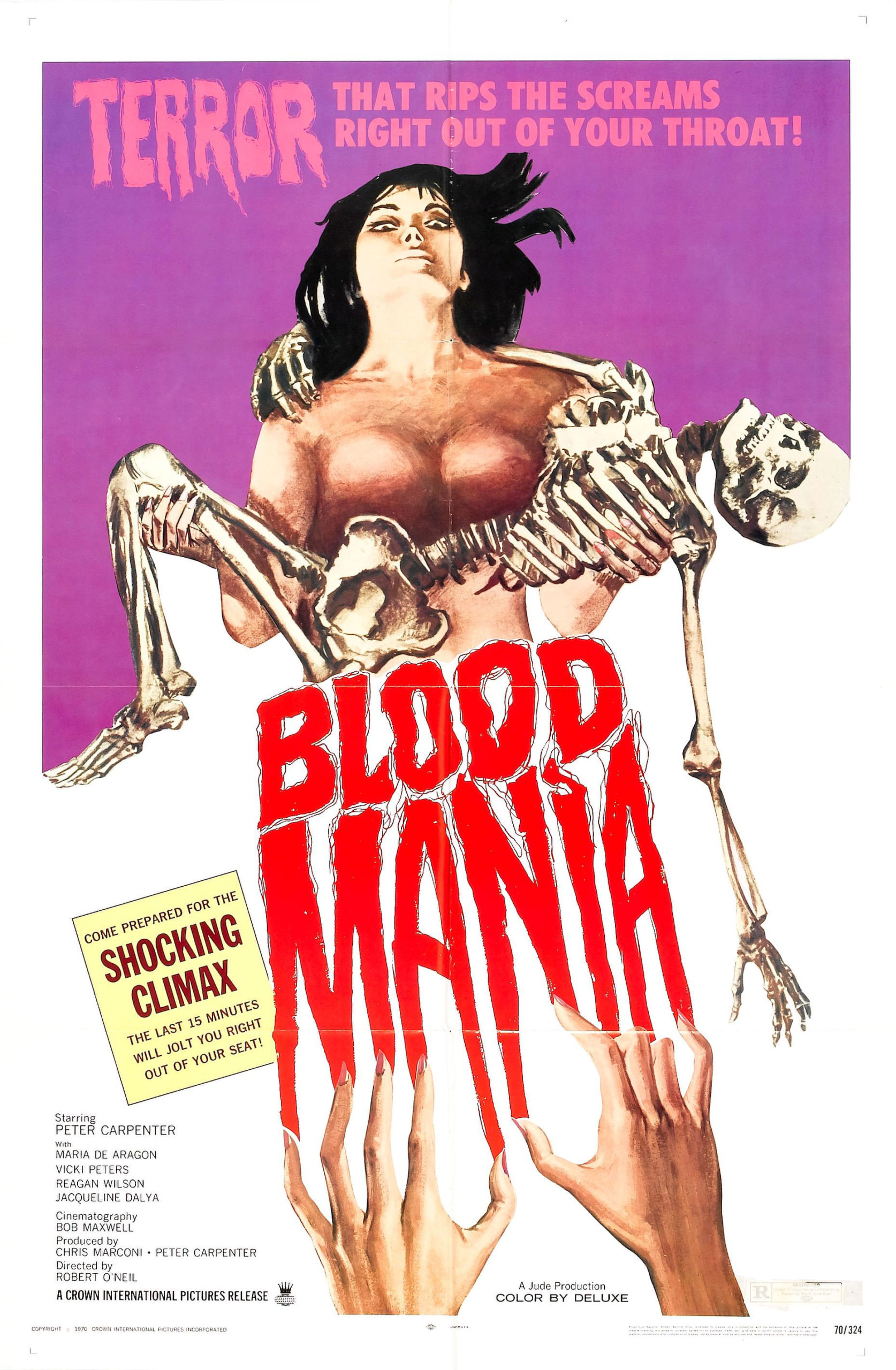 theme of the plot is well-done. It's all predictable, especially if one is familiar with those aforementioned Crime SuspenStories and their adaptations in media like the Tales from the Crypt television show, but this is a film with a solid plot. So many films of this ilk, that were designed to make a quick buck by showing some nudity, don't bother to craft a story that makes sense or is in the least believable, yet this shitty movie does.
It is shitty, too. The score by Don Vincent was played on whatever crap synthesizer was available in 1970. It lacks the funky charm of porn-equivalent music from grindhouse contemporaries, such as Blood Sabbath. That film's score had energy, while this film's sounds like a bizarre combo of lounge music and period soap opera scores.
The female cast members in this film were all objects, with the exception of Jacqueline Dalya, who played an aging lesbian looking to seduce Victoria's sister, Gail, who was played by eventual Miss April, 1972, Vicki Peters. Ms. Peters wasn't the only character cast for her nude bona fides, as she was joined by Miss October, 1967, Reagan Wilson, as Cooper's girlfriend, Cheryl. I didn't mention her in the plot summary because, just when she becomes significant to events, her character is dropped completely.
Aragon would appear to fit in with the nude talent, were it not for some moments where she acts quite well. Her character never loosens up once throughout the entire film, and has a wonderful explosion of emotion about halfway through. That said, her performance is uneven, as the scenes where she excelled are equaled by the number where she stumbled over lines. Her nude talent was most hilariously reserved for a scene, I shit you not, involving a pool boy (Reid Smith).
There isn't an excessive amount of nudity in this film, but it was very much an aim of the filmmakers. This is the type of film that wasn't necessarily designed to be appreciated by the audience, as much as it was designed to get them in the mood. So much core storytelling is thrown away while general incompetence keeps the sleaze from being worthwhile. The end result is a film that falls short of its potential, for good or ill. It also doesn't go very far with violence, when the opportunity was there. The very title ends up being misdirection — something designed to get viewers into a theater before they know they've been had. That's more of a shame in this movie than it was for The Thirsty Dead, because there are some redeeming qualities to this film. A little bit more care, or some more ruthless exploitation, would have done this film wonders.
As intriguing as Aragon was, and as interesting as was the story, Blood Mania is little better than a TV movie of the era with some flesh. The story and characters were intriguing, and the professional cast was game, but it just didn't come together. Blood Mania dips into the bottom half of the Watchability Index, displacing It Conquered the World at #153. For being a middling shitty movie, I think it's worth a look for the dedicated shitty movie fan.