What month of horror franchise reviews would be complete without visiting the redheaded stepchild of 1980s horror franchises? The first Critters film was released to widespread yawns and accusations of thievery from Gremlins, but I maintain that this series of films is an indelible part of the experience of 1980s horror. All of these films are cheap, bloody, nicely tongue-in-cheek, shitty, and more entertaining than they should be.
Coming to audiences in 1988, Critters 2 picks up two years after the events of Critters, and assumes, quite fancifully, that one has seen the first film.
Ug (Terrence Mann) and Charlie (Don Keith Opper) are trucking around space collecting bounties, as seen at the end of Critters, along with fellow bounty hunter Lee (Randy Spears and Roxanne Kernohan…it's complicated), when they receive news that the critter infestation they thought had been dealt with on Earth is ongoing, and it's up to them to finish the job of extermination.
Meanwhile, in a coincidence of galactic proportions, Brad Brown (Scott Grimes), the protagonist of the first film, returns to the small town of Grover's Bend, Kansas, just in time for
some leftover critter eggs to hatch and start terrorizing.
The production had Mann, Opper, and Grimes on hand to reprise their roles from the first film, but that's it. No more Dee Wallace, no more Billy Green Bush, and no more Nadine Van der Velde. M. Emmet Walsh's sheriff character, Harv, appears prominently, but was recast with Barry Corbin in the role, so still a win for audiences. Lin Shaye also returned for a small part as intrepid local reporter Sal.
As things get out of hand, the bounty hunters arrive, the townsfolk huddle in a church for safety, and the critters eat anything that moves.
There's not much more to this movie than that. The interactions amongst the cast are boilerplate, and are just stepping stones to the next scene with critters. They are the star attractions, and are just as satisfying villains as ever.
The critters come in two forms. They're either fur covered rubber balls that the production crew rolled across the ground, or hand puppets with bitchin' hair and endless amounts of teeth. Sure, they probably are ripped off from Gremlins, but how can one not appreciate movie monsters that look like this: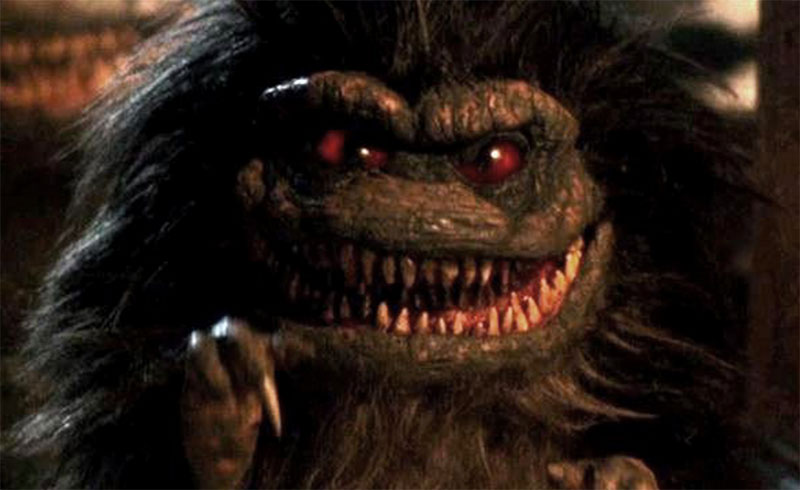 The critters aren't as playful as the gremlins, as they're interested solely in eating. But the chaos they sow as they roll around the town fits in nicely with the absurdist aspects of the screenplay, which was written by David Twohy(!) and the film's director, Mick Garris.
Critters 2 was released with a PG-13 rating, and the MPAA must have been feeling generous that day. Besides a decent amount of gore, Kernohan wasn't shy about adding a little gratuitous nudity to the mix. It makes me wonder what Garris and company had on hand for an R-rated cut.
This isn't highbrow horror. It isn't highbrow anything, in fact. But, the critters are an underrated movie monster, I feel. Sure, they're just hand puppets, but if one wants to see how hand puppets can go wrong, look no further than Zombeavers. There was care and meticulousness put into the production of the critters, and often in this film it felt as if a better movie was waiting to burst out.
I'm not thinking about better production values or a more believable screenplay. Nor was I left wanting for a serious tone or world-shattering implications. There was a pile of insatiable fur balls — evil tribbles with a taste for blood — and too much time was spent on the sidelines waiting for them to do something. Too much of the film was carried by cast and dialogue. At least all involved worked well with what they had.
That said, Critters 2 is not that good of a movie. In fact, it's in Roger Ebert's most hated list. And now it's in the Shitty Movie Sundays Watchability Index, displacing The Kidnapping of the President at #126. Not shitty gold, but still watchable.